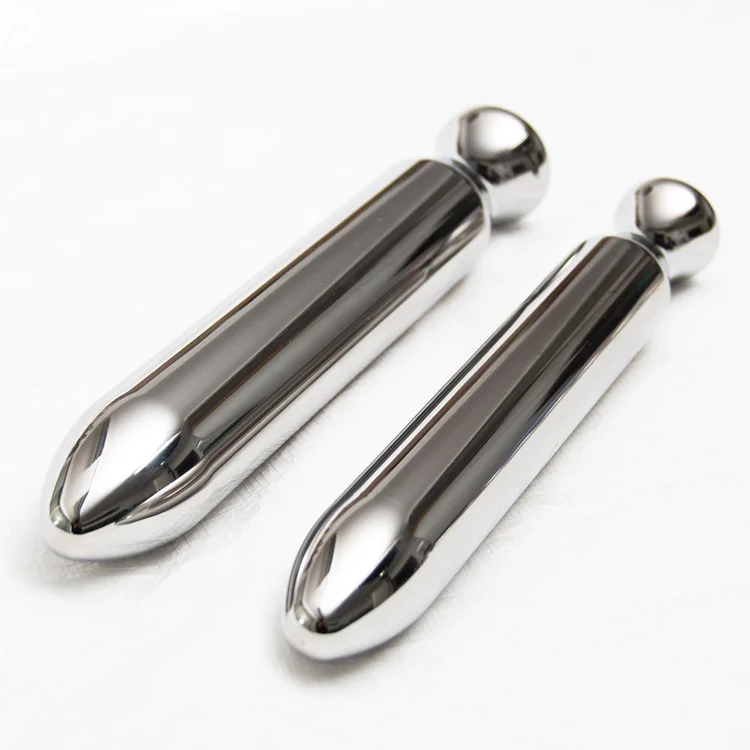 The newcomer is the entry level model of our stainless steel dildo series. It convinces by its simple design and of course by the unbeatable price for a handmade dildo made of high-quality V4A stainless steel. A real "introductory price" which is certainly worth its investment.
The metal dildo for all curious people
The newcomer comes in two different sizes. Even the little fellow weighs a proud 1030 grams and does not have to hide from his big brother with almost 1.5 kg.
Stainless steel dildo
Material: V4A stainless steel
Handmade in Germany

size M
diameter: 3 cm
length: 22cm
Weight: 1030 grams

size L
diameter: 3,5 cm
length: 22cm
weight: 1460 g

High quality dildos and plugs made of V4A stainless steel
Our stainless steel toys are handmade for you in Germany and they are made of high-quality V4A stainless steel. The solid dildos are polished to a high gloss and impress with their elegant feel and solid character. Everyone who has ever held our stainless steel toys in his or her hand is convinced of the quality and the attraction of trying one of these seductive sex toys.
Experience the unique feeling of a stainless steel dildo

The metal of the dildos is of course a perfect heat or cold conductor and therefore brings many play variations. At the beginning we recommend to bring the dildo to body temperature in warm water. Because of the unmistakably smooth surface a stainless steel sextoy glides almost by itself to the right place. For a little more adventure you can of course put the stainless steel dildo in cold water before. These warm-cold games give the sex toy an unmistakable changeability and provide for many fulfilling hours alone or in company. But also the weight of the metal dildos should not be underestimated as a play element. Through the noble design of the individual dildos and plugs in combination with the individual weight you will experience completely new wow-effects.
Hygienic cleaning of your sextoys is no longer a problem
After the game you can simply clean the high-quality V4A stainless steel with water and a little soap. And if you treat the good piece with a small spray of our Toycleaner, germs and fungi don't stand a chance anymore. If you have any questions or special requests about one of our stainless steel toys, just get in touch with us.