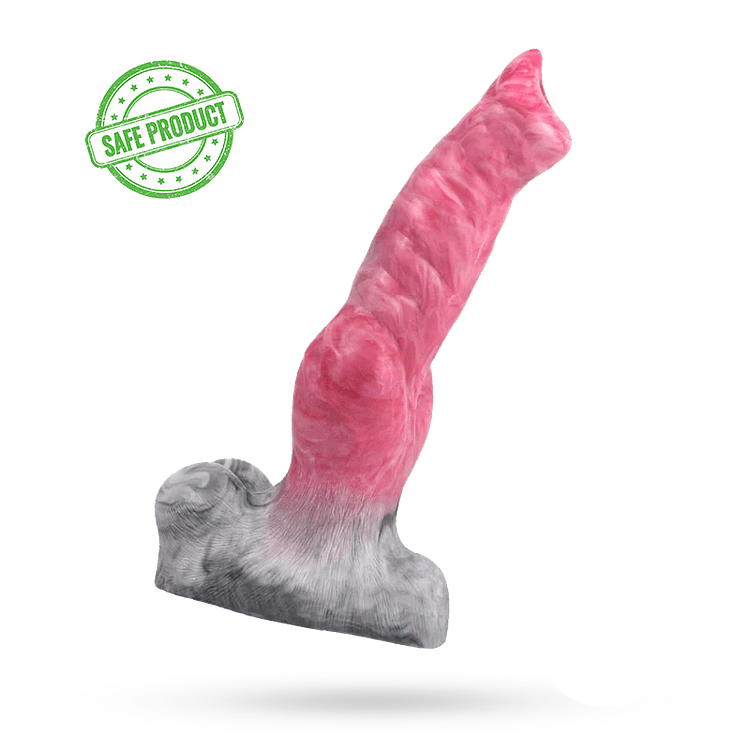 The Brutus Beast Werewolf Platinum Silicone Dildo - Your Key to Unforgettable G-Spot Stimulation
Looking for a realistic and intense sexual experience? Look no further than the Brutus Beast Werewolf Platinum Silicone Dildo. Inspired by the phallus of a mature wolf, this dildo is designed to stimulate your sensitive spots with its thick head, raised veins, and textured shaft. The knot at the end provides a challenging yet seductive sensation, making every thrust more exciting.

Not only does this G-spot stimulator look lifelike, but its material is 100% body-safe and non-porous for easy cleaning and disinfecting. Its strong suction cup allows for hands-free play on smooth surfaces, and it is also compatible with a harness for even more options.

The exclusive red color mixing technique used in this product ensures that every toy received is unique and different from others. Whether you're in the mood for a solo session or with a partner, this wolf dildo is guaranteed to satisfy your desires.

Your privacy is of the utmost importance to us, and that's why we ship all of our products in discreet packaging with no sensitive words. If you have any questions about the product, our reliable after-sales service team is always ready to assist you. Get ready to take your pleasure to new heights with the Brutus Beast Werewolf Platinum Silicone Dildo.
Get the Thrilling Action You Crave with Brutus Beast Werewolf Dildo - 10.23 Inches. Unleash your inner beast with this legendary werewolf-themed dildo, designed for maximum satisfaction. Bring to life your fantasy of a wild and powerful creature with this 10.23-inch dildo, designed to pack a punch. Whether you prefer the image of a savage werewolf or one with perfect control, this dildo is sure to captivate your imagination and deliver intense pleasure. Experience the thrill of the hunt with this unique and fantasy-inspired adult toy. Order yours now.
KEY FEATURES:
Brutus, the ferocious monster werewolf dildo that packs a punch in the bedroom.

Handcrafted with body-safe liquid silicone and hypoallergenic, this fully waterproof dildo is perfect for all your naughty desires.

With its bulging glans, shaft and huge knot, Brutus is designed to take you to the depths of carnal pleasure.

The strong suction cup base allows for hands-free play, as you indulge in the ultimate fantasy ride.

Measuring 10.20 inches in length, with a width ranging from 1.77 to 2.36 inches and weighing 1.71 lbs, Brutus is ready to unleash the beast.