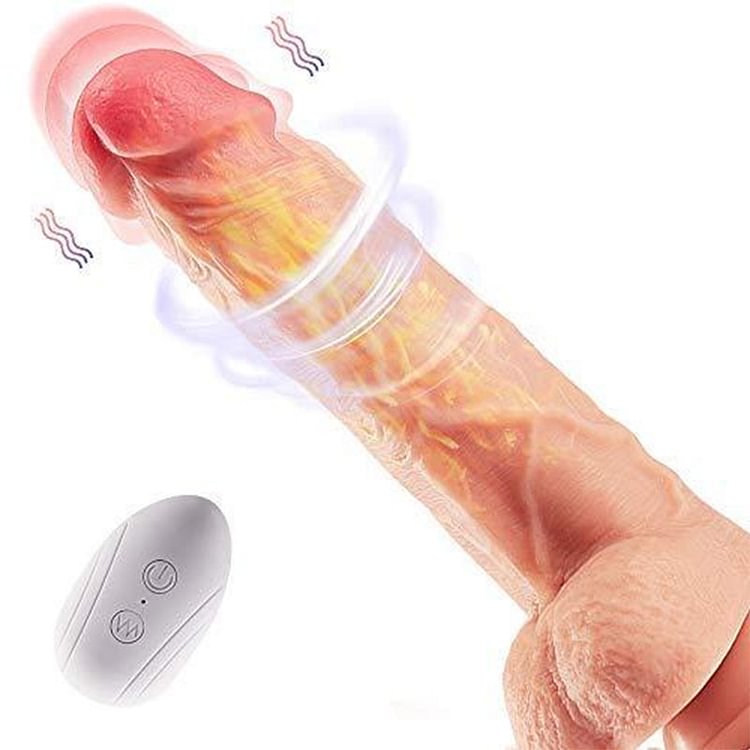 Features:
Realistic Dildo: To give you the satisfying feel of a real man while you masturbate! This extreme penis-shaped dildo for women will make you believe you are riding a real stud! The realistic glans, veiny shaft, and wrinkly balls will fill you up just like a male would!
The dildo has 8 different thrusting modes. You can choose the low-speed mode, high pounding speed mode, or several other specific regular thrusting modes when penetrating into your vagina. Each mode will satisfy your needs. With a high quality motor that delivers a steady stream of power, this toy will keep you entertained.
Built in 8 Vibration & Rotation Modes. The vibration & Rotation pattern changes with the thrusting pattern, and the 8 frequency levels and rhythm variations & Rotations are always satisfying. It is comfortable for most people and won't cause any skin irritation.

It can be heated to 107 °F, feel the wildness of your men.

The vibrating dildo also has telecontrol, with it you can pretend to attempt some other new plays.

This

vibrating

dildo is 100% waterproof, you can use it in the bathtub or taking a shower

Description: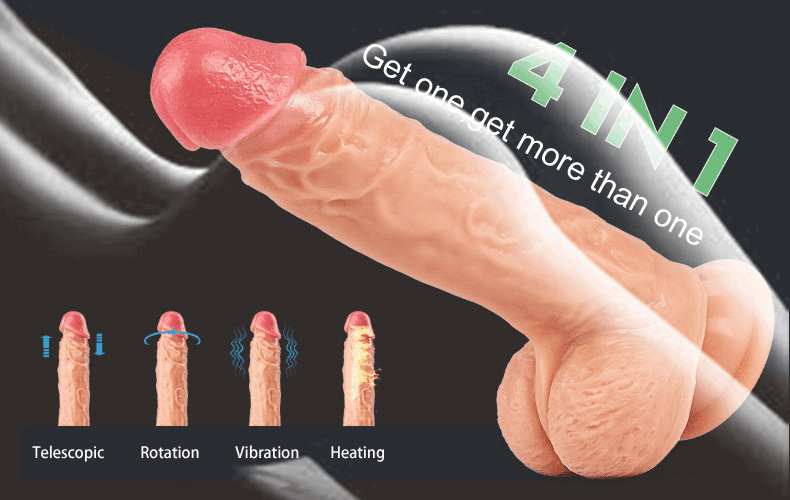 Feeling lonely at night isn't fun. God didn't create you to lay in bed with a huge blanket covering your soul. The Vibrating can comfort your lonely soul, regardless of your gender or status. You just need to flip the switch and enjoy the pleasure of this lifelike dildo. The vibrating dildos are remote control dildos, which make you don't have to interrupt your pleasure by taking them out and looking for the buttons you need to press, and don't lose the flow entirely. The newest dildos have 8 intensity levels, choose a mode that makes you feel orgasm. Besides with heating you will experience the true burning hot huge cock. You will feel the sensation of orgasm spreading from your vagina to your entire body with the extra 1.2-inch stretching length.
The vibrating dildos are 100% waterproof and specifically designed for submerging into a bathtub, shower stream, or pool. They are made of various kinds of plastics and polymers and are battery powered and well-sealed. They're even better than using your shower head to reach orgasm, even though you can (and should) do that, too. This strong suction dildo is easy to clean. It can be rinsed with a tap after use. The vibrating waterproof dildo is a great option for getting 'Dirty' in the shower.
| | |
| --- | --- |
| Size | 8.25" * 1.8" |
| Insertable length | 5.9" |
| Material | silicone |
| Charging time | about 1 hour |
| Using time: | about 1 hour |
| Package Included | Vibrating Dildo *1, USB cable *1, Remote Control * 1, User manual *1 |