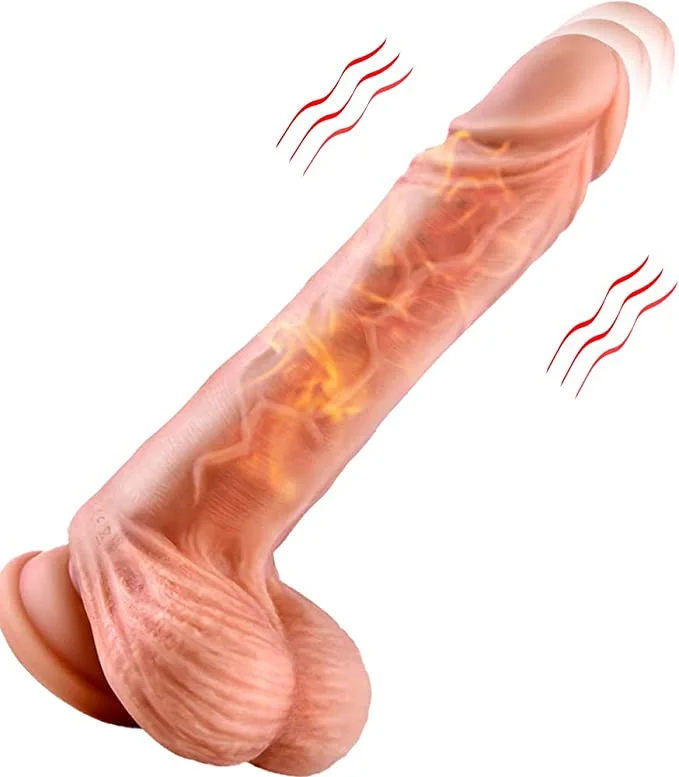 Features
Auto Vibrator Dildo - This realistic dildo has the function of automatically telescopic, 8 different thrusting, rotation and head vibration modes give you various kinds of sexual pleasure and totally free your hands, just enjoy the erotic toy.

Food-Grade Material - The ultra-soft dildo is made of high-quality liquid silicone, which is non-toxic, odorless, safer, and environmentally friendly, has better fluidity, can be used for pacifiers. It's very soft and comfortable, you can get real penis feeling.

With Heating & Orgasm Character - The realistic vibrating dildo with lifelike veins has a 10 seconds quick and strong telescoping mode, help you enjoy the mind-blowing orgasm. And the heating mode is very intimate to give you a great warm touch. Total length 8", insertable length 6.1", diameter 1.6".

Strong Suction Cup Dildo - Suitable for many occasions, you can stick the realistic dillido on clean and dry ceramic tile, glass, wood material surface. You can also use the dildo sex toy in the bathroom, it has adequate water resistance.This dildo vibrator is compatible with a harness as well.

Privacy Security Guarantee - We attach great importance to customer privacy, so we use neutral packaging without any tags or text, it will not disclose product information, please rest assured to buy. If you have any questions, please feel free to contact us and we will reply within 24 hours.
LOVEXXO Liquid Silicone Realistic Dildo Bring You Personal Satisfying!
High-Quality Silica Gel Dildo
Made of premium liquid silicone material, comfortable safe and non-toxic. Which is almost the best material to produce realistic dildo. OIXGIRL is always committed to bringing customers high-quality products and shopping experience, you could have a try.
Enjoy Every Minute
The boosting mode can last 10 seconds, highly increase the pleasure, and you can repeat tap for multiple times climax. When the heating mode is on, the red light flashing, it can heat up for 6 minutes.
Suitable Size Rechargeable Dildo
Total length 8", insertable length 6.1", diameter 1.6", it is suitable for beginners and wow veterans. Charging time is about 120 minutes. Easy to clean, just use warm water, shower gel, or other detergent specialized for cleaning sex toys to clean the toy surface.
Multiple Vibration and Characteristic Modes
8 Vibrating Modes
This sex toy for women has 8 different thrusting and rotate modes, 360-degree friction and tremor while thrusting and wriggling, free your hands and experience a continuous G spot stimulation.
Boosting Mode
For enhanced vaginal stimulation, help you get a really mind-blowing climax whenever you want and no matter how many times. Men may not satisfy you but this vibrating dildo can.
Heating Mode
Before using this vibrating dildo, you can use the heating mode to increase the temperature of the women dildo to 102.2ºF, which is closer to the body temperature, so that you have a more comfortable insertion feeling.
How to Use These Button
Press the ON/OFF button for about 1.5s to switch on/off the vibrator.

Tap the ON/OFF button to recycle through 8 different vibrating modes.

Tap the BOOST/HEAT button once to switch the huge dildo to boosting mode.

Press the BOOST/HEAT buttonfor about 1.5s to switch on the heating mode.
Suction Cup Dildo
This realistic dildo has a strong suction cup design, you can use it on flat, clean and smooth tiles, glass, wooden material and metallic material surfaces. NOTE: A FLAT SURFACE IS NECESSARY TO COMPLETELY ISOLATE THE AIR.
About The Heating Function:
You need to open the heating function a few minutes before using.It raises the temperature of the dildo up to 102.2ºF,which aims to make the dildo feels not cold,so you may not feels too much heating feeling.