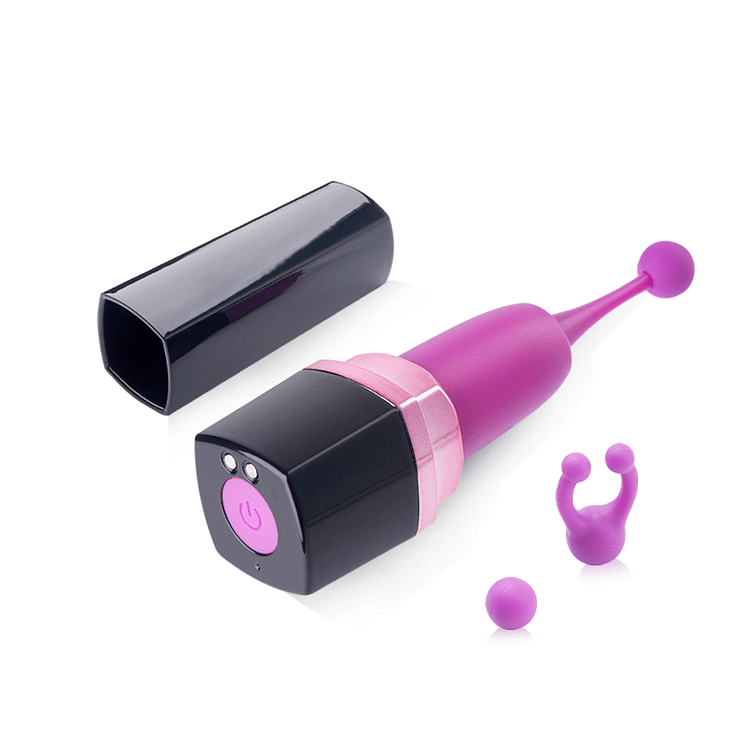 Features:
The lipstick appearance design, common everyday and avoid awkward moments.
Small size, easy to carry.
Complete with 2 small accessories for stimulation, 2 different sexual
Can be charged via USB,convenient for the next time
10 vibration modes,multiple stimulation options.
Description:
Every woman can't refuse a lipstick, and certainly can't refuse a clitoral vibrator that looks like a lipstick. So we met this need, don't miss this lipstick clitoral vibrator. Thanks to it's appearance, it is so common everyday that even when it is discovered by other people, they will never realize that it is a sex toy, which does a good job in avoiding embarrassing moments. Its size is very small, just like a real lipstick, convenient to carry. You can even put it in your handbag every day while commute, maybe you can secretly start a pleasant game time during work. There are two small accessories for stimulate your clitoris, you can choose which one to use according to your preference. Apply the small bead to the top, it will accurately stimulate your sensitive points, sending a pin-point stimulation. When another small horn-shaped accessory is placed on top, the range of stimulation will be wider and you will feel as if there are two sharp corners gently pinching the sensitive parts. No matter which one you use, it can always bring you unprecedented orgasm. There are 10 vibration modes, which can be adjusted according to your needs. At the beginning of the game, you can use the soothing mode, which will make you feel comfortable. Then slowly adjust the vibration to a faster or stronger gear, step by step, you will burst into orgasm and groan, and the love liquid will flow out quickly. In addition, during foreplay, you can also use it to stimulate the nipples or other sensitive parts, which is also a good choice. The head is made of silicone, which is very soft and will not harm your delicate skin. It can be charged via USB, and it is magnetic. Charge it when you are done using it to ensure that your next use can give you a complete game process.
Specification:
Material: silicone+ABS
Size: 3.9*0.9''
Package included:
1*vibrator
1*charging cable
2*Accessories for stimulation