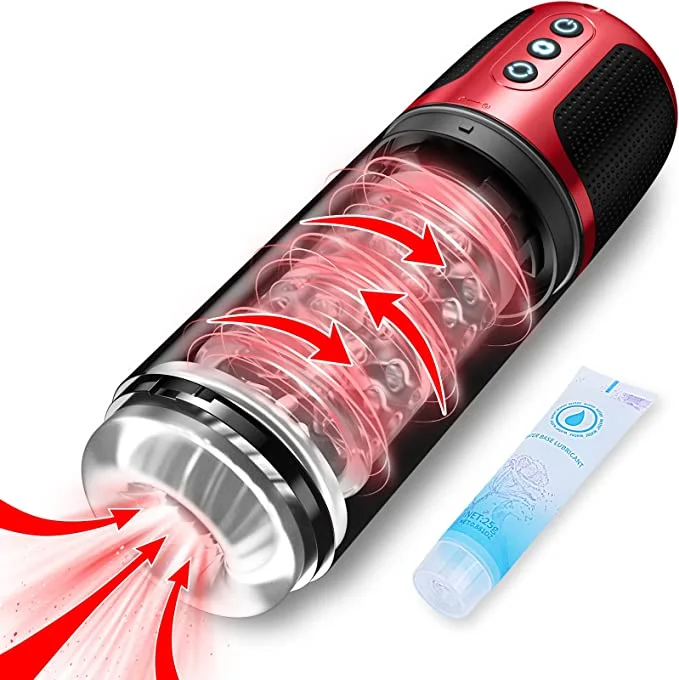 HIGHLIGHTS:
【Automatic Rotaing Sucking Fun】This male masturbator is designed with 2 motors, one for spinning the cup on the penis, the other is for clearing out the air to create a vacuum condition that inmitates oral sucking to the glans.

【7 Sucking & Rotating Modes】This pocket vagina has 7 powerful sucking and rotating intensities and patterns, each mode could provide different realistic oral sex feelings. The suction and rotation features can be used together or alone.

【Full-body Waterproof】This masturbator is The First Electric Male Masturbator that could be used in water, all wires and motors are well-sealed with waterproof materials. User could actually get use it in bathtub or swimming pool. Please do cover up the charging port when using in water.

【Detachable for Easy Cleaning】This masturbation cup is made detachacble so as to wash clean the toy effortlessly. From the top cover, main shell or inner sleeve, user can easily take it off to clean it, then put it back together in just 1 minute.

【Soft & Flexible Inner Sleeve】To provide the comfortable and real sex fun, this sex cup uses flexible and soft silicone for the inner sleeve. Inside the sleeve, hundreds of tentacles will contribute to get the user a step closer to the big O.

【USB Rechargeable】This male sex toy is rechargeable through USB cable, user can use it for 1-HOUR after charged. The shell is designed with anti-skid texture for holding it better in the play.

【Discreet Shipping】This masturbator is packed and shipped with box that shows no product information, just to ensure user's privacy.
【Extra Lube for Extra Pleasure】It is recommended to use water-based lube for the sex play for better using experience. So we includes extra lube for the toy.

【About Size Matter】The whole length of this toy is 25cm/9.8in, diameter is 8cm/3.1in, easy to hold with one hand. The inner sleeve of this masturbator is 14cm/5.5in deep, and 5cm/1.9in diameter. Depth doesn't have to cover the penis, but diameter is important. Please check the penis size before order.
DESCRIPTION:
This advanced device combines the features of a pocket pussy, vagina stroker, and blowjob machine, providing a versatile and enjoyable experience. One of the most significant features of this male masturbator cup is its automatic function. With seven different rotating and vacuum suction modes, this device simulates the feeling of real sex, providing a more realistic and satisfying experience. The automatic function allows you to sit back and relax, while the device does all the work for you.
The fully submergible design of this male masturbator cup is another great feature. You can take your pleasure to the shower or bath without worry, as the device is fully waterproof. The silicone material is soft and comfortable, providing a lifelike experience that will have you feeling like you're with a real partner.
The seven different rotating and vacuum suction modes provide a customizable experience, allowing you to find the perfect setting for your individual preferences. The pocket pussy and vagina stroker are designed to simulate the feeling of a real vagina, providing a pleasurable and realistic experience. The blowjob function is perfect for those who want a more hands-free experience. The Automatic Sucking Rotating Male Masturbator Cup is an excellent addition to any man's sex toy collection. Its advanced features and versatile options make it a must-have device. The sleek design is both discreet and stylish, making it a perfect gift for yourself or a partner. Try it out today and experience the ultimate in male pleasure.