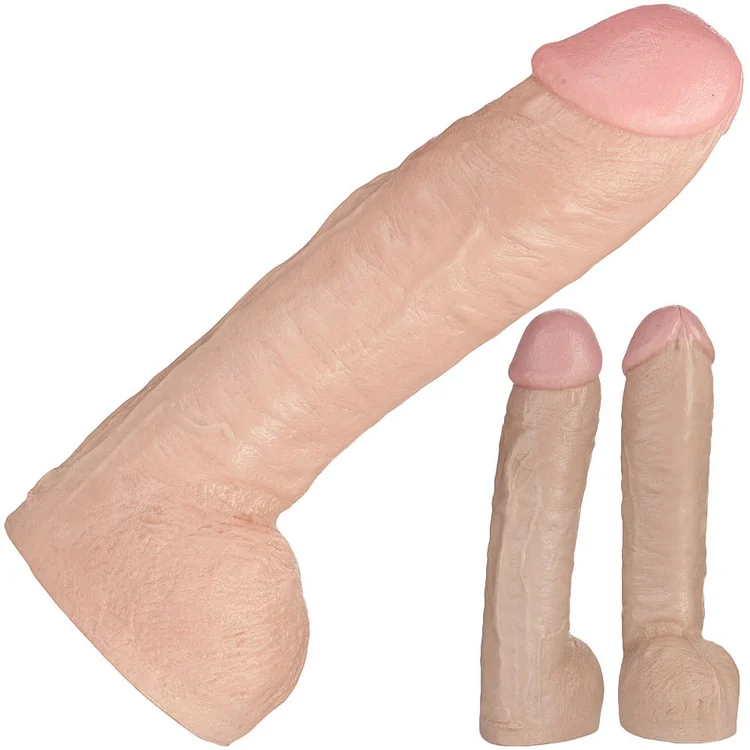 12.5" total length, 3" at the widest point, 10" insertable
Doc Johnson's Vac-U-Lock Realistic Hung 12" Cock in Vanilla is the newest addition to the Vac-U-Lock line. Appropriately named, it's 12.5" of plump head, juicy balls, and bulging veins. 3" thick and ready to fill you up, this big daddy is sure to satisfy the greatest of appetites. Non-phthalate, body-safe PVC. Proudly made in America. Compatible and interchangeable with all Vac-U-Lock systems.
Vac-U-Lock Strap-On Ballsy Cock Attachment
Veined Detail and Prominent Head
PVC, Non-Phthalate, Anti-Bacterial Sil-A-Gel Formula
Proudly made in America
The Vac-U-Lock system is a state of the art strap-on sex system that features an adjustable waist band and an open crotch for maximum comfort, easy access & non-slip action. All Vac-U-Lock products are specifically designed to give you total command and control of your erotic pleasures.
All Vac-U-Lock products are interchangeable and will work with all other attachments and accessories that are used with the Vac-U-Lock strap-on sex system.
---
A word on the material construction of this pleasure toy:
Safest Material Options: Silicone, Glass, Wood, Metal, ABS Plastic, Acrylic, Pyrex, Ceramic (with hard glaze) are safest but if you're enamored with a toy made from something else, there are some additional precautions to take.
This Material: Phthalate Free PVC
Properties - Rigidity can vary from very soft to very hard. The PVC items we feature have been deemed as phthalate free by their respective manufacturers as they are made with non-phthalate plasticizers. Made with antibacterial Sil-a-Gel formula which is latex, phthalate and cadmium free. Compatible with water based and silicone lube.
Hygiene - This material is porous so use of a non-lubricated condom is highly recommended. Cannot be disinfected with boiling water. You can wash them with warm water and toy cleaner or mild soap before and after use. If you have any sensitivities you should select an item made from the safer material options.
SPECIFICATIONS:
| | |
| --- | --- |
| MATERIAL | PVCBODY |
| BODY SAFE | Phthalate-free - Porous |
| CARE & CLEANING | Clean with soap and water. Optionally, use gentle antibacterial soap or toy cleaner. Use only water-based lubricants. |
| MEASUREMENTS | 12.5" total length, 3" at the widest point, 10" insertable |
| APPROXIMATE LENGTH - INSERTABLE | 10 inches |
| APPROXIMATE WIDTH - WIDEST POINT | 3 inches |