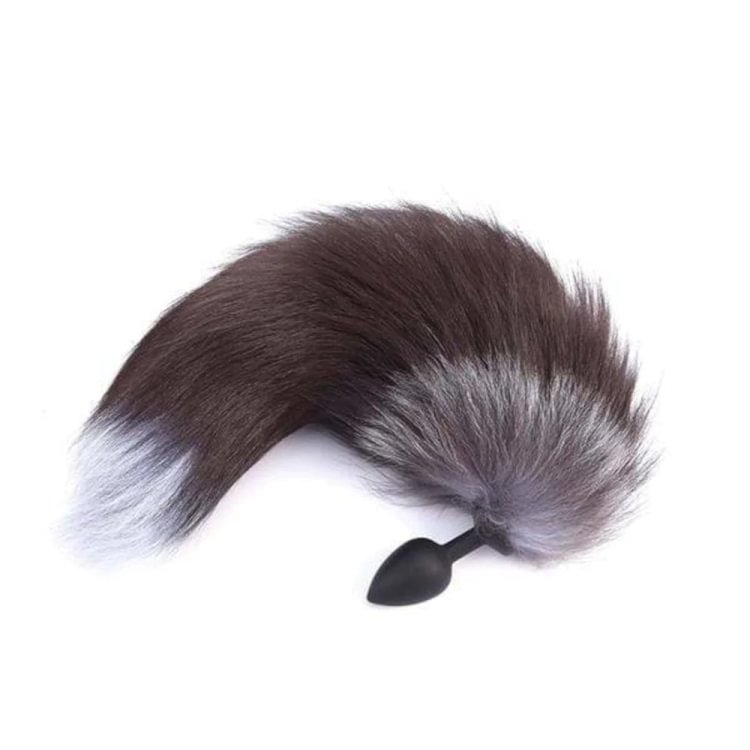 Being "an animal in the sack" has acquired a new meaning. Our 18" Black Fox Tail Silicone Plug is an exciting and provocative way to spice up your sensual activities in your bedroom or wherever your sex drive takes you.

The plug is made of soft silicone, which is thin enough for novice players and wide enough to satisfy an experienced user's cravings. The silicone butt plug offers the smoothest possible penetration and gives off a comfortable, full sensation when it is inside you. That is because our 18" Black Fox Tail Plug features an ergonomic design. It has a smooth, narrow end and an accommodating neck, making comfortable insertion and fulfilling sexual satisfaction possible.

However, these are not the only things you can get from this product. The base of the Black Fox Tail Silicone Plug is flat and round as it gives protection to your ass and adds charm to the toy. The bottom is bigger than the size of your a-hole. Therefore, there is no chance of it getting fully completely inserted into your ass. Not only that, it also allows easy retrieval of the plug when you are done with it. Just hold the base and carefully pull the butt plug out of your tushie.

The plug will hold the fox tail securely. The tail (made of synthetic fur) is attached firmly to the bottom of the base so as not to fall off whenever you move. The only thing you will feel is how soft it is to the touch as the tail brushes against your thighs.

Our 18" Black Fox Tail Silicone Plug will surely bring fun and thrill to your sex life. Your erotic games with your partner have never been this playful and visually pleasing at the same time! So buy now!
Color

Handle: Black with White

Plug: Black

Type
Tail Plug
Material

Handle: Synthetic Fur

Plug: Silicone

Dimensions

Length

handle: 30-40 cm. (11.81"-15.75")

plug: 7.5 cm. (2.95")

Width

handle: N/A

plug: 2.8 cm. (1.10")