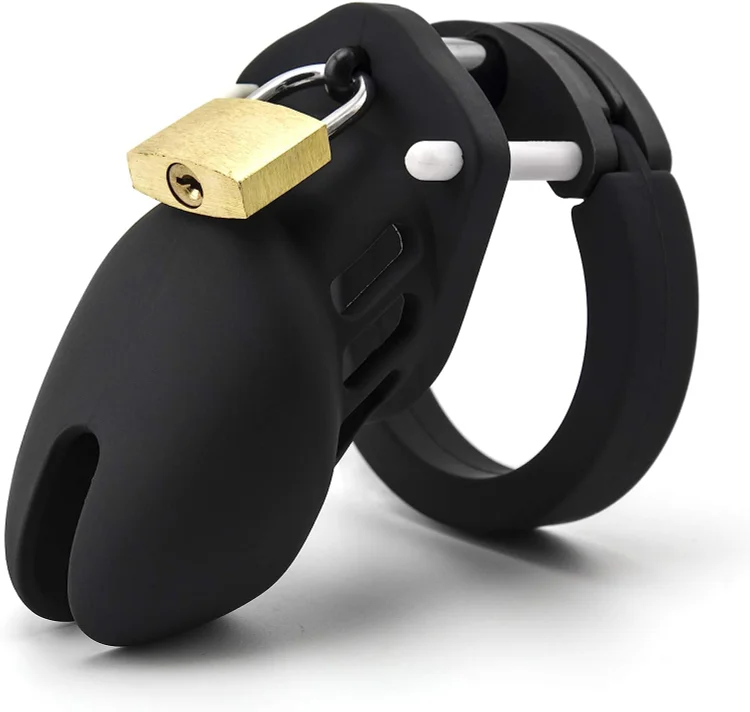 KEY FEATURES:
Made of medical silicone and ABS,safe,non-poisonous and odourless.

Soft,elastic,portable and comfortable to use.

5 different sizes of cock rings for men to choose.

Exquisite design of the air vents on both sides.

The latest upgrade version, reliable quality.
Color
Black, Pink
Material
Silicon
Ring Diameter

35 mm – 38 mm (1.49 in.) – 42 mm (1.64 in.) – 45 mm (1.76 in.) – 50 mm (1.96 in.) 

Cage size

Small: 3.15 inches (Length) by 1.33 inches (Diameter)

Large: 3.74 inches (Length) by 1.33 inches (Diameter)
It's very Comfortable and The shape is very popular .
2 kinds of cage to choose: Smaller  /Standard
Cock Ring: One set contain 5 different rings to you.
The silicone employed in crafting chastity cages is of the highest quality, guaranteeing the safe use of genitals. Ensuring a healthy chastity experience, especially when the owner requests extended wear, is of paramount importance.
Our meticulous design takes into account even the tiniest details to ensure maximum comfort for the wearer. The cage features multiple vents, allowing the penis to "breathe" and preventing any unpleasant odors. Additionally, there is a hole at the end of the penis to facilitate comfortable urination.
Are you eager to explore the exhilarating world of BDSM or feminization lifestyle? Perhaps you are already immersed in it but seek some extra motivation. Our Sissy Maid Silicone Chastity Device is perfect for the submissive side within you. Locking up your cock solely for your dominant Mistress brings a thrilling sensation. Donning a sexy pink French maid costume along with pencil heels and the matching cock cage allows you to fulfill your sissy dream.
This soft silicone chastity cage suits both novices and experienced fetish couples alike. As your Dom straps the incredible bondage toy around your penis, you may feel yourself growing. However, once the device is securely locked in place, your manhood has nowhere to go.
Have you been misbehaving by getting aroused at inappropriate times? Does your dominant Mistress believe you need to be punished for this behavior? With this cage, you can wear it tightly in place for weeks. The breathable holes enable easy washing and urination without any mess. Hopefully, you can convince your Dom that you have learned your lesson sooner rather than later.
Crafted from food-grade silicone, this soft BDSM toy is safe for various bondage play scenarios. Your Dom may choose to tease you with a feather or their tongue to make you feel the pressure against the device. For added humiliation, they might opt for girly pink or baby blue colors. Alternatively, a clear style allows them to witness your sissy dick struggling. There's also the option of deepest, darkest fantasy black. The cage comes with five different-sized silicone hinged rings to find the perfect tight fit for your manhood.
Your Mistress will securely lock away your penis, and with good behavior, it will eventually be released. Cock cages are an innovative method to control the submissive and assert dominance over locked men. When your arousal starts to swell and become rock hard, it is thwarted with uncomfortable pressure. You will plead for your Dom to free you from your alluring pains.
The Silicone Chastity Device is a highly sought-after commodity, guaranteeing thrills for both parties. Waste no time and place your order to embark on a new and exciting playtime adventure!