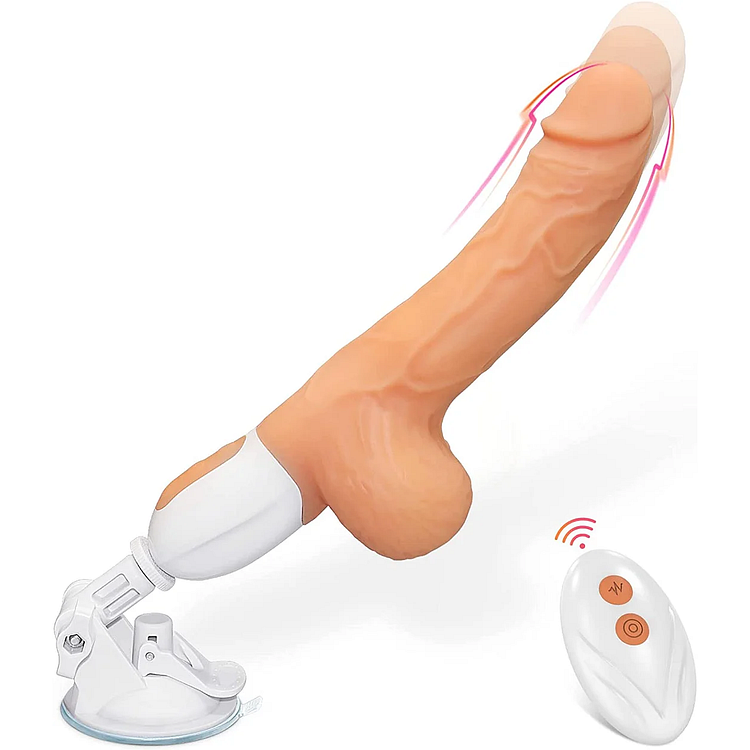 Triple Functions, Triple The Joy
*It's a realistic dildo with life-like material and design.
You can use it as a normal thrusting dildo.
*It's a vibrator
The head can vibrate also, you can turn on the vibration only, just enjoy it as a vibrator.
*It's a automatic sex machine
Stick it to the wall, put your hands down, use the remote to control it, use it as sex machine
Vibrating and Thrusting Motion Combined Adult Sex Toy
Feels soft to the touch yet firm on the center,
The thrusting frequency: 500 times/ min(Max)
The vibration frequency: 6000 times/ min(Max)
225°Angle Swing
Once you get the angle right, that thing is incredible
With Powerful Suction Device
How to use:
First to clean the suction cup and the wall( so that they it can be complete vacuum and connect really tight)
Then put it at your ideal place and press down the button, it will automatically exhaust air and tighten down to the wall firmly
You can put it on the desk, door, toilet, bathtub, bedside or more...
Sampling frequency from man
Thousands of samples were analysed, ten were selected and upgraded. The sex machine is made to behave like a man. Its thrusts are not mechanical like those of other machines. Its power is transmitted from bottom to top, stimulating all your nerves. Like a wave, sometimes fast, sometimes slow, sometimes gentle, sometimes violent.
Waterproof
100% waterproof, can be used in bathroom, and very convenient to clean it under water
USB Rechargeable
USB charging cable included, convenient to recharge it.
just connect it to charging adapter, power bank, or computer to charge for it.
Please fully charge it before use
Discreet packaging
No information about the product on the packing box.
Never need to worry about awkward when receiving the package
HIGHLIGHTS:
Sex Machine & Realistic Dildo 2 in 1 Design: This automatic sex machine has a simulated design and comes with a detachable realistic dildo that can also be used on its own. With 10 different thrust and vibration modes, you can control each function separately or use them at the same time.

Remote & Suction Cup: The curved penis comes with a remote control that has a distance range of about 30 feet, allowing for hands-free play. The suction cup can be attached to smooth and flat surfaces like a toilet lid, shower wall, or chair. With the remote control, you can easily choose different strengths and frequencies for your pleasure.

23°Cure Design: The curved sex machine has a 23-degree curve for a more ergonomic design, which fits your body better during use. The human body doesn't have straight lines, so why should your sex toy be straight? The curved design enhances the overall experience and allows for more comfortable use.

Waterproof & Magnetic USB Rechargeable: This sex toy is 100% waterproof, making it easy to clean and use in the bathroom. The magnetic charging feature allows for convenient recharging and ensures you can have fun anytime, anywhere. On average, it can be used for 60 minutes when fully charged.

Discreet Package & One Year Warranty: The thrusting vibrator comes in a discreet package to avoid any embarrassing moments when receiving the item. Additionally, there is a one-year warranty included in case you have any concerns or issues with the product.
SPECIFICATIONS:
| | |
| --- | --- |
| Color | Flesh |
| Material | Silicone |
| Style | Dildo Vibrator |
| Water Resistance Level | Waterproof |
| Item Dimensions | 9.84 x 5.83 x 2.83 inches |
| Weight | 1.12 Pounds |
| Batteries | 2 Lithium Ion batteries required. (included) |
| Functions | Thrusting, Vibating |