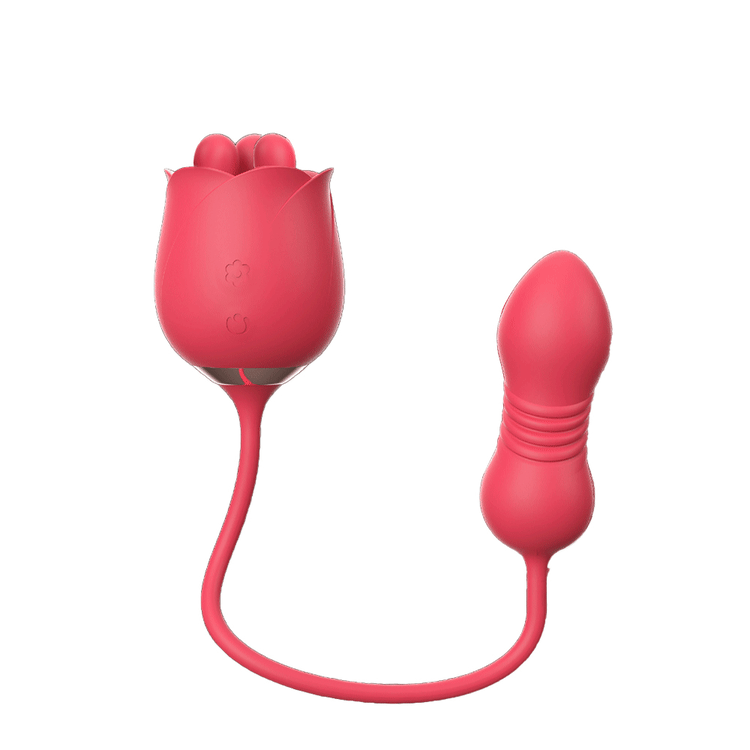 Innovative Fondling & Vibrating Combined Action
This vibrator for women features all-new functions that mimic the fingertip circular motion. Unlike the other vibrators, it can hug and fondle and circle around your most sensitive and aroused areas, so you can experience a wide variety of new, wonderful sensations.
Thrusting Egg with Tapered Tip & Ribbed Textures
The g spot vibrator has an ergonomic thrusting egg with tapered head for pinpoint stimulation. It is designed to fit your contours perfectly with the tip for smooth insertion and the wavy texture constantly massaging your inner wall and a lengthy tail for retrieval a breeze.
4-in-1 Rose Toy for Woman
Never just consider it as a normal bullet vibrator! It is a 4-in-1 perfect rose sex toy, combining energetic fondling, deep thrusting, powerful vibrating, and sensual rubbing. Not only can it be used as a clit stimulator or g spot vibrator or nipple stimulator, but it can also be used as a kegel exerciser ball. This vibrator does it all!
USB Rechargeable
Conveniently USB rechargeable, the adult toy is perfect for travel, powering up anywhere. Charge cable included.
IPX7 Waterproof
The completely nonporous vibrator is IPX7 waterproof rating, you can use this egg vibe in the shower or tub for extra thrills,easy to clean.
Portable Size
Small and portable, you can put it in your bag and take it with you.
Dual Tongue Stimulation for Instant Gratification - Introducing our latest women's pleasure enhancer, featuring an upgraded dual tongue licking design that offers a tantalizing array of 10 licking speeds combined with robust vibrations. Unlike your typical rose toys, sex stimulators, or vibrators, this unique creation artfully blends swinging and vibrating motions for a mind-blowing dual impact on both the clitoral and nipple regions. With a mere tap of the licking button, our compact yet potent female pleasure gadget promises to transport you to new realms of ecstasy.
Rose Sex Toy with Substantial Thrusting Dildo Vibrator, Boasting 10 Dynamic Settings - Our couples' delight brings forth 10 distinct thrusting patterns, seamlessly synchronized with 10 intense vibration modes, ensuring an unforgettable sensory experience. For those who seek the zenith of pleasure, employing both the dildo and the tongue-flicking rose function in harmony yields more than 10 intense sensations in tandem! For an extra layer of sensation, a touch of lubrication sets the stage for unparalleled amusement.
An Upgraded 3-in-1 Adult Pleasure Toy for Elevated Enjoyment - If your treasure trove consists solely of solitary rose vibrators, dildos, or G-spot stimulators, prepare to be enamored by our 3-in-1 adult innovation. We've ingeniously woven together the faculties of licking, thrusting, and vibration within the realm of the rose vibratos, culminating in triple stimulation designed exclusively for women. The controls are seamlessly managed through two buttons: one for clitoral or nipple tingling vibrations, and the other for thrusting and G-spot or anal vibrations.
Velvety Silicone & Immersive Waterproof Craftsmanship - The composition of our women's pleasure tool reflects meticulous craftsmanship employing top-tier soft silicone and IXP7 waterproof materials, bolstered by a seamless non-porous construction that facilitates effortless clean-up. These advantages of our vibrating dildos introduce novel dimensions to your adult toy repertoire.
USB Magnetic Charging & Portable Convenience - Ensuring utmost convenience, our women's pleasure companion comes equipped with a nifty USB magnetic charging cable, facilitating power-ups through phone chargers, computers, or power banks. Simply charge the rose vibrator for 2 hours, and it discreetly purrs for a whole hour. Portability is prioritized with the compact design of the thrusting toy, fitting snugly in your bag for unfettered escapades.
Whisper-Quiet Operation & Understated Packaging - Operating at decibel levels below 50, our adult pleasure marvel guarantees covert enjoyment of the sensual tongue action, perfect for you and your partner. Our couple's indulgence arrives discreetly enveloped in a sleek black box, sans any suggestive content or explicit imagery associated with adult toys. Should queries arise about our adult women's pleasure emporium, don't hesitate to reach out; we're committed to addressing any concerns within 24 hours. Please note, this product is not suitable for purchase by individuals under 18 years of age.
SPECIFICATIONS:
| | |
| --- | --- |
| Material | Silicone + ABS |
| Color | Red |
| Mute | <60 dbs |
| Size | 385*58.48mm |
| Work Time | 50min |
| Vibration | 9 modes rotation & 9 modes vibration & 9 modes thrusting |