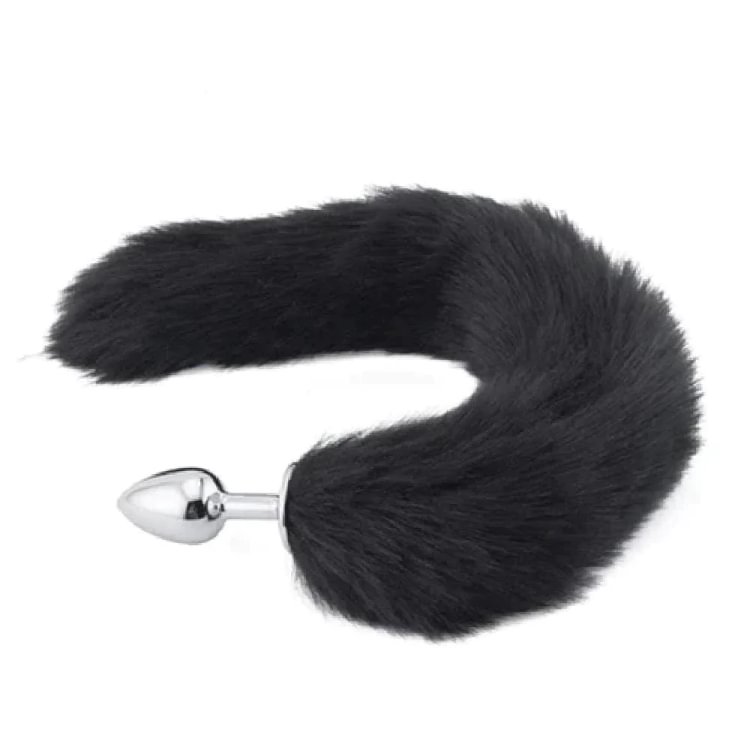 Let your partner know how deep and dark your desire is, by wearing an accessory as seductive and as ominous as a black wolf. Look sultry and watch your partner stare in awe as he or she looks at the shiny black tail hanging from your butt cheeks. Put on your sexiest black lingerie and wear it with our Midnight Black Wolf Tail with Stainless Steel Butt Plug. You can also wear it with your birthday suit.

One of the popular ways in enhancing foreplay is by wearing a fox tail butt plug, like our Midnight Black Wolf Tail with Stainless Steel Butt Plug. Not only do these tail plugs accentuate your butt cheeks, but they can also improve sex quality. These plugs can prepare a person's anus for anal penetration. Vaginal penetration will be more sensational as a butt plug can make the uterus feel tighter. It also increases the pussy's sensitivity, resulting in more stimulating thrusts and penetration. On the other hand, when a male wears a butt plug, it can massage his prostate, get his junior fully-erect, and keep it hard for a longer time.

But aside from its sex-enhancing features, it can enhance your physical features as well. This plug's long ebony furry tail can make you look more alluring and seductive. You can even tease your partner, by tickling his or her erogenous body parts, like neck, nipples, ears, or breasts with its furry tip. And because the plug is stainless steel, it is safe for penetration as it is non-porous and free from phthalates. The surface is also lustrous and shiny, so with a lot of lube, you can comfortably insert this plug and feel the thousands of nerve endings on your anus ignite.
Color
Tail: Black
Plug: Silver
Type
Tail plug
Material
Tail: Faux Fur
Plug: Stainless Steel
Dimensions
Length
Tail:

18 inches (38 to 45cm.)
Plug:

Small: 2.80 inches (7.11 cm.)
Medium: 3.20 inches (8.13 cm.)
Large: 3.80 inches (9.65 cm.)
Width
Tail:

N/A
plug:

Small: 1.10 inches (2.80 cm.)
Medium: 1.40 inches (3.56 cm.)
Large: 1.60 inches (4.07 cm.)