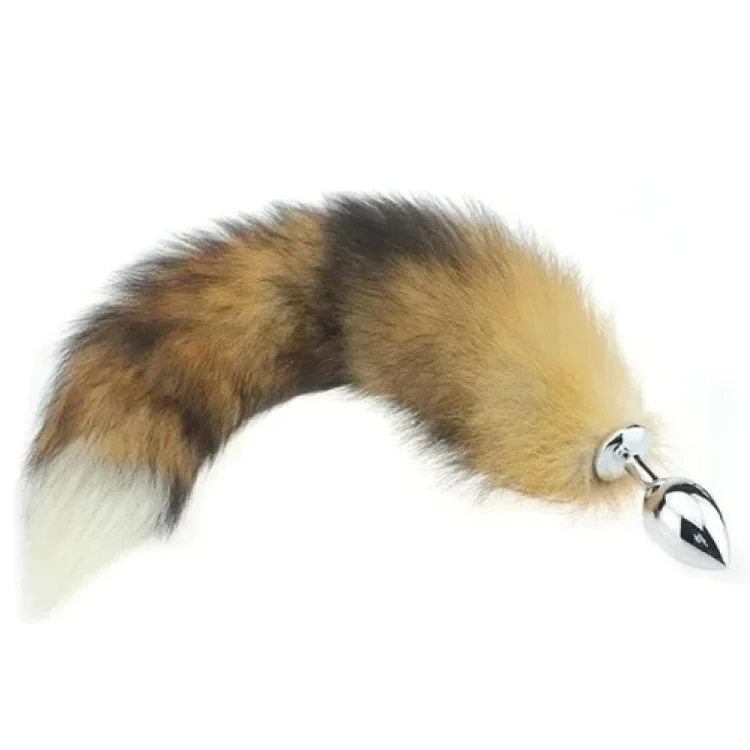 Experience pure ecstasy as you play with this Brown Faux Fur Metallic Tail Butt Plug 15 Inches Long.

Luscious, luxe, and fluffy, this tail will supercharge you and your partner's libido. Make yourself alluring by sporting this tail. Be like a flirtatious fox and declare hump day any time you like!

The majestic device is offered in three variants of plugs: golden thread style, silver teardrop-shaped plug, and golden teardrop-shaped one. The tail is more than 15 inches in length. Brown is the major color, but you'll find shades of black and yellow to make it look natural. The tip is colored white to add more radiance to the tail.

Wiggle your bum when you're wearing this beautiful tail to stun your partner and make him completely turned on. Play some raunchy music in the background and shake your hips to the beat. I bet your man can't handle the heat and will be ready to pounce with a hard dick. Looks like someone will get a doggie for being so naughty, huh? Feel the amplified thrusts with the plug filling your butt. That fullness in your back door will make your pussy feel tighter. Feel the warmth spreading from your pelvis to your whole body as your man hammers you. Your partner will be as pleased as you are because he would love the tightness that you're giving him.

As the butt plug is made of metal, its non-porous nature makes it easy to clean up. Wash it in warm water and antibacterial soap, then air dry it. And because it's made of metal, it's compatible with any lube; be sure it's not the cheap kind. For a slippery glide, coat your butt plug with lube, and it's also wise to put some "in" your bum.

Intensify the heat in the bedroom by wearing the Brown Faux Fur Metallic Tail Butt Plug 15 inches long. Buy now!
Color
Brown (tail), silver/gold (butt plug)
Type
Tail Plug
Material

Handle: Faux Fur

Plug: Stainless Steel

Dimensions

Length:

Handle: 15.7"

Plug: 2.83" (teardrop-shaped), 2.87" (thread style)

Width:

Handle: N/A

Plug: 1.10" (teardrop-shaped), 1.14" (thread style)