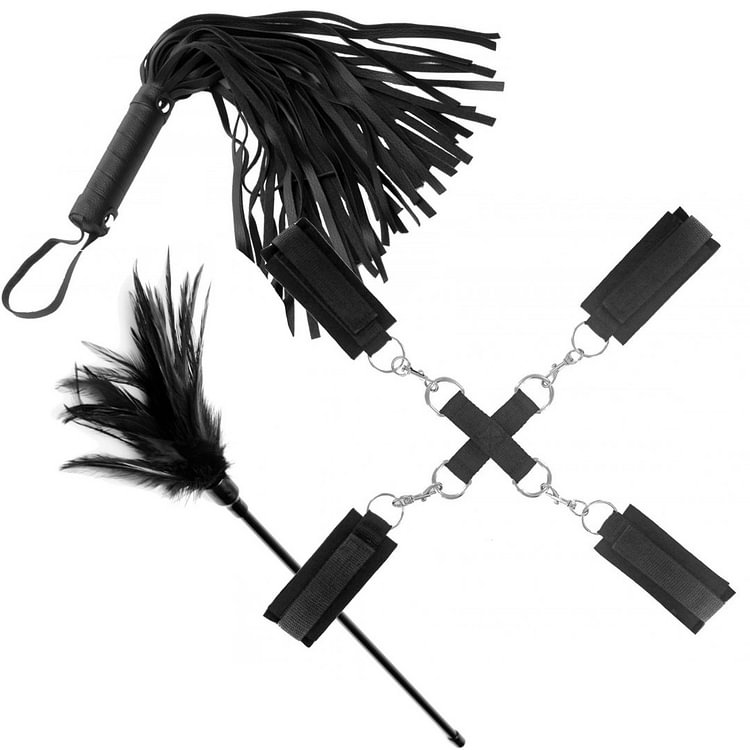 Four cuffs, a hot tie connector, and two intense pleasure tools make this kit a steamy way to spice up your bedroom play, whether you like it naughty or nice.
The feather tickler provides delicate and delightful sensations as it glides across the skin, while the mini hand flogger provides a little bite as it impacts. The cuffs are comfortable and adjustable, with a sturdy design and Velcro closure.

Measurements: Each cuff measures 13.5 inches in length, and 2 inches in width. Center hub measures 5.25 inches in width
Material: Nylon, Neoprene, feathers, plastic, PU leather
Color: Black.
Note: Kit contains 1 hot tie connector, 4 cuffs, 1 feather tickler, and 1 mini hand whip.
Disclaimer: This manufacturer only ships UPS Ground so delivery might take an additional day or 2 depending on location. These products as with all products on this site are supplied AS IS. No warranty is given either implied or expressed. Products are intended as novelty only, and no representation is made or implied as to their suitability or safety for any particular use. Purchasers use the products entirely at their own risk. The manufacturer or re-seller is not liable for any direct, indirect, incidental or consequential damage or loss howsoever arising caused by use or misuse of the products. This includes, but is not limited to, damage to the products and personal injury or damages due to use or misuse.