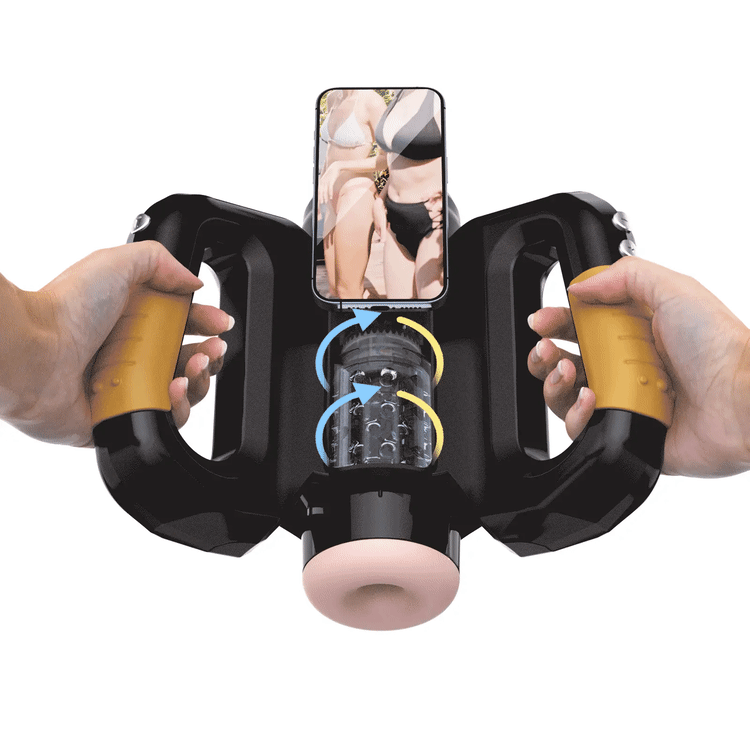 HIGHLIGHTS:
Advanced masturbator with genuine-feel thrusting and squeezing action.

Dive into multiple thrusting rhythms for heightened excitement.

Automated vibrations and gripping for a blowjob-like sensation.

The 3D textured sleeve ensures a lifelike pleasure experience.

Sleeve can be easily removed for cleaning and maintenance.
Designed for hand-held use, offering multiple grip and position possibilities.
Comes with a phone holder for effortless device positioning.
Dual-Function Enhanced Handheld Masturbator
The Gabriel stands out as a life-like thrusting and squeezing male pleasure device, complete with a phone holder. While many claim to offer "thrusting" but rely on vibrations or suction, Gabriel delivers genuine physical thrusting for an unparalleled experience.
Distinctive Thrusting and Squeezing Masturbator
With its potent motor, Gabriel delivers an automated experience reminiscent of a blowjob, offering genuine thrusting, squeezing, and vibrating sensations.
Authentic 3D Textured Sleeve
Gabriel is crafted from top-quality, body-friendly silicone that feels soft against the skin. Its sleeve replicates the genuine feel of a vagina, boasting intricate spiral pleats, raised particles, and a ribbed passage. The entrance of the sleeve offers a snug fit reminiscent of a virgin, ensuring a 360° full-bodied embrace, amplifying stimulation and delivering unparalleled pleasure
With its groundbreaking dual-handle switch control, Gabriel's handheld design lets you experiment with different holds and positions, maximizing comfort, control, and exploration of novel pleasure perspectives. The built-in phone holder on this male pleasure device ensures easy device placement, allowing you to indulge in movies or other visual delights during your intimate moments.
User-Friendly Cleaning and Maintenance
Gabriel's sleeve is designed to detach seamlessly from the device, allowing for efficient cleaning using running water
SPECIFICATIONS:
| | |
| --- | --- |
| Material | Thermoplastic Elastomer (TPE) |
| Style | Male Masturbator |
| Water Resistance Level | Waterproof |
| Product Care Instructions | Hand Wash |
| Product Size | 11.2x12.2x3.9 inches |