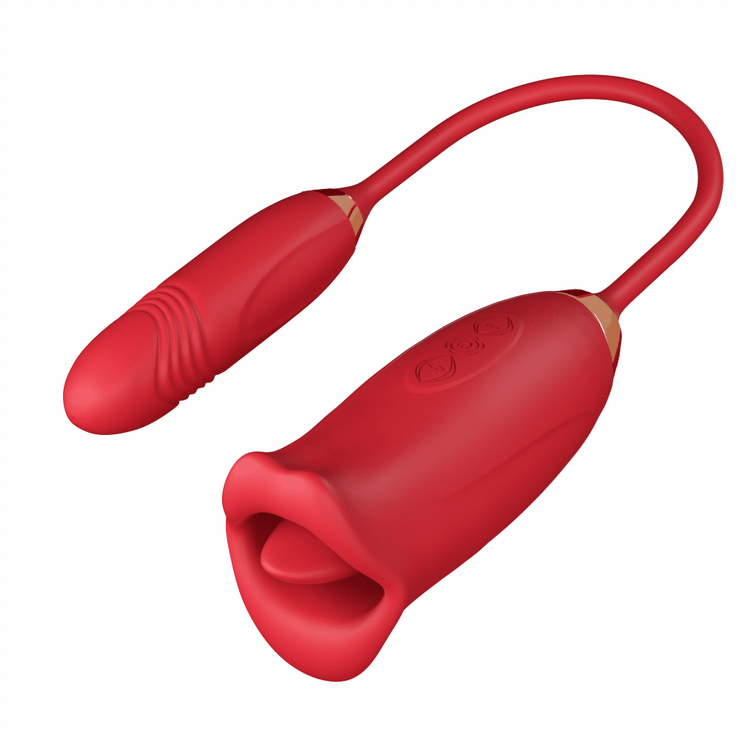 HIGHLIGHTS:
【10 Thrusting G-Spot Stimulation Device】Unlike other conventional sex toys, our innovative G-Spot stimulator offers 10 distinct levels of vibration and thrusting. Designed with an extra-long connecting line, this female pleasure device allows for hands-free enjoyment and independent use. Its tapered tip facilitates easy insertion, and the back-and-forth motion provides an exceptional internal experience. With repeated G-Spot stimulation, prepare to lose track of time as pleasure takes over.
【10 Tongue-Like Vibrations and Oral Sensations】Introducing the world's first oral sex toy with 3D textured lips and tongue. Superior to other suction toys, our device features 10 bite and vibration modes that mimic the sensations of a partner kissing and teasing your nipples and clitoris. This unparalleled kissing technique, combined with precise clitoral stimulation that targets 8000 nerve endings, amplifies sexual pleasure for a more exciting and satisfying intimate experience.
【3-in-1 Rose Toy with Thrusting Dildo】This versatile tongue-shaped sex toy combines three functions: 10 modes of oral stimulation, 10 thrusting options, and 10 vibration settings. As it massages the clitoris and G-Spot simultaneously, it stimulates every nerve ending and hits all the right spots repeatedly. Additionally, this vibrator serves as an ideal foreplay toy, offering enhanced fun and passion. Enjoy the tongue vibrator alone or with a partner, and let it add a delightful twist to your sex life.
【Super-Powered Vibrator - Achieve Toe-Curling Orgasms in 30 Seconds】Indulge your body with the pleasure it craves. This vibrator's textured tongue lavishes attention on your clitoris, while its thrusting dildo provides deep rhythmic stimulation to your G-Spot with its 10 patterns. The rhythmic motion of the thrusting vibrator enhances blood flow and sensitivity, making it perfect for stimulating various erogenous zones such as the neck, back, vagina, nipples, G-Spot, anal area, or prostate. Experience a dynamic duo that redefines passion.
【Premium Silicone and Fully Waterproof】Crafted from premium silicone, this vibrator ensures comfort, pleasure, and safe play. Its silky-smooth, seamless design adapts to your body's contours, offering targeted stimulation precisely where you desire it. The non-porous and odor-resistant material guarantees hygienic use every time. Plus, it is entirely waterproof, allowing for adventurous fun in the shower, bath, or hot tub. The rose sex toy makes for a perfect gift for her or couples seeking to ignite intimacy.
【Easy-to-Use, Quiet, and Discreet Packaging - No More Awkward Moments】Featuring simple two-button operation, these sensual toys are easy to control. You can independently operate the tongue licking vibrator and thrusting vibrator functions. Furthermore, the rose tongue vibrator is designed with a super-quiet motor, ensuring privacy during solo use. All our adult toys are shipped in discreet packaging, eliminating any concerns about prying eyes. Please don't hesitate to contact us if you encounter any issues.
DESCRIPTION:
Immerse yourself in the captivating allure of our flaming red lips design, enveloping every inch of your labia, clitoris, nipples, and areola, enticing you from all angles. Indulge in a plethora of novel bite modes, characterized by a gentler touch than that of men's lips, showcasing biting techniques that will keep you longing for more. The bullet-wrapped vibrating insert delivers exhilarating stimulation to both your vagina and anus, evoking a wet and entangled sensation, causing instant numbness to ripple throughout your body. Prepare for an explosive climax as dual stimulation propels you towards an instant orgasm, leaving you unable to contain your cries of pleasure. Surrender to the euphoria of oral sex and unleash your deepest desires to your heart's content.