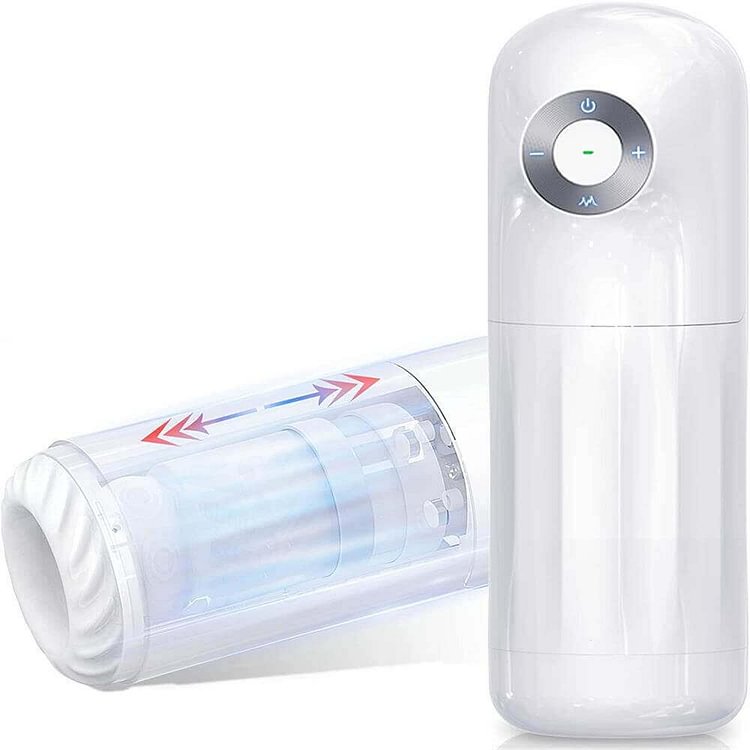 About this item
4 Automatic Thrust Modes+ 4 Thrust Speed:

Kai - Automatic Male Masturbators Blowjob Master 2.0

has a powerful Engine. For the beginner to advanced, you can always find the one mode combination that belongs to you! Make sure you use enough water-based lube to make things easier. Included lube is a great bonus.

Full TPE Material & Realistic 3D Channel: The silicone sleeve inside the electric massager is made of full TPE material, non-toxic, odorless, hypoallergenic, and safe for the human body. With special concave and convex particles and multi-layer folded spirals. The realistic 3D channels mimic the vagina and precisely stimulate every nerve.

Type-C Charging & Tech-like shape: This sex machine uses USB-C charging, which makes it easy to find a replacement for the charging cable wherever you go. Takes only 90 minutes to charge and about 150 minutes to use. The male stroker has a tech-like shape and a pure white design. Simple with elegant makes it looks like a smart speaker. Putting it on the table is even hard to identify as an adult sex toy.

Detachable & Easy To Clean: The sleeve is connected by magnetic suction and can be removed. The whole masturbator sex toy is not waterproof. Rotate the sleeve first to loosen the bayonet and then need a little effort to pull it out. Rinse with water after removing the sleeve. This split design makes cleaning and drying easier without worrying about bacterial breeding. The shell is sturdy, integrally formed, sturdy and durable, and anti-fall.
Our internal code name for this adult sex toy is "Gentleman". Designed in pure white for a technological look. Make it look more like a smart device. It's as handsome and understated as a gentleman, but when you actually use it, you'll find you're mesmerized by its looks! Beneath the delicate exterior of a masturbation cup is a beast that will drive you crazy at night!
Revolutionize your pleasure time with this electric masturbator cup that pushes you over the edge with better than just use your hand. Lube up, and dive into pleasure, savoring sensual life-like strokes in 4 thrust modes, bring you the "O" like a volcano eruption.
Upgrade your solo play with this masturbator cup featuring 4 thrust modes and 4 thrust speeds stimulating stroking motion.
From beginners to advanced, you can find the right frequency for you. Sit down, relax and enjoy the exquisite strokes, without even moving a finger.
Give it to your man and let this little sweet keep his horny c0ck in check when you're away on business or away from him.
The ultra-soft textured tunnel made of skin-like TPE features a fantastic texture, which perfectly simulates a soft and tight vag-ina with proper elasticity. It swallow and sucks your c0ck in various ways. Please enjoy the continuous slippery thrusting and release the deepest pleasure!
The quality 3D threaded channel is like a woman and gives you an extremely comfortable experience. Pleasure device really makes your hands free, you just stick your c0ck in the masturbator and wait until it's all over! This product is certainly the best experience ever!
Plunge into the soft lips of this Kai - Automatic Male Masturbators Blowjob Master 2.0 to experience rows of stimulating nubs and a trio of beads that deliver mind-blowing pleasure. Experience the sensations of better-than-real deep throat oral sex with 4 thrusting motions to enjoy. Perfect for hands-free climaxes, activate the toy with a push of a button and explore solo play, or hand the toy over to your lover and let them take control of your pleasure. Try the rapid thrusts of its highest setting for a wild, intense session or indulge in relentless, slower thrusts for stamina training and a slower-building climax. How long can you last? The toy's supple insert stretches to accommodate most men, while a handy twist and pull feature allows for easy cleaning. Lash it up with lube and off you go!
Package Contains
1 * Electric Masturbator Cup
1 * Type-C Charging Cable
1 * User Manual
1 * Water Based Lubricant
Easy to Clean and Assemble

How to clean

1.Do not use water to clean the whole product directly, just take off the sleeve for cleaning

2.Turn the sleeve counterclockwise to unlock and pull out. (Magnetic construction, need a little effort to pull it out)

3.Use water to clean the sleeve

4.After cleaning, wipe the sleeve dry with a towel

5.Align the snap position, put the sleeve back on the cup, rotate the sleeve clockwise to lock

6.Keep refrigerated until next use