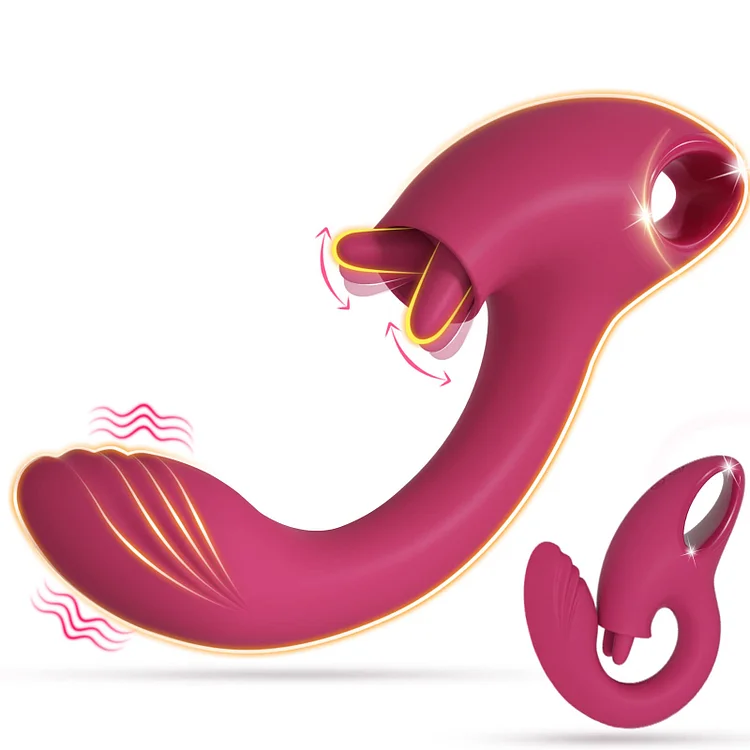 HIGHLIGHTS:
2 in 1 Clitoral & G Spot Vibrator for Blended Climaxes
Dual Tongue-Licking Stimulates Clit & Entire Labia Simultaneously
Unique Curved & Boneless Design, Easier to Hit the G Spot
7 Vibrations & 7 Alternate Licking Patterns
Novel Finger Hole Design, Convenient to Play
ABOUT THIS ITEM:
2 In 1 Clitoral & G Spot Vibrator for Blended Climaxes
This G spot toy is skillfully crafted to deliver stimulating sensations to both the clit and G spot. The head of this women's sex toy closely emulates the structure of a real penis, while the two fingertip-like parts replicate the tantalizing motion of a licking tongue. It adeptly targets your clit, U point, and G spot individually, granting you access to a diverse array of delightful pleasures.
Dual Tongue-Licking Stimulates Clit & Entire Labia Simultaneously
Our tongue vibrator boasts a distinct dual tongue-licking design, setting it apart from conventional toys. The two fingertip-like stimulators rhythmically alternate, replicating the tantalizing sensation of tongues licking. This allows for precise stimulation of both your clit and entire labia simultaneously, elevating arousal and enhancing sensitivity, ultimately leading to unparalleled pleasure.
Unique Curved & Boneless Design, Easier to Hit the G Spot
Our clitoris vibrator features an ergonomic design, ensuring precise G spot stimulation. Its uniquely curved shape is strategically crafted to effectively target the G spot. The boneless design ensures exceptional softness and flexibility, allowing for effortless adjustment to fit any body shape and hot spot. Crafted from body-safe silicone, you can trust that your sexual wellness is just as paramount as your pleasure.
7 Vibrations & 7 Alternate Licking
Equipped with two powerful built-in motors, this rabbit dildo can be operated independently or simultaneously. The dynamic combination of 7 diverse vibrations and 7 licking patterns promises unparalleled pleasure. Whether you desire gentle, teasing sensations or more intense stimulation, this versatile toy has something extraordinary to offer.
Novel Finger Hole Design, Convenient to Play
This licking vibrator incorporates a smooth and easy-to-hold finger hole on the handle, ensuring comfortable usage even during extended sessions. The elegant curves and exquisite, fashionable color matching make this female vibrator a must-have adult toy for fashion-forward individuals.
Whisper Quiet
We exclusively employ top-of-the-line motors, ensuring that our women's sex toys are powerful, quiet, and have a long-lasting lifespan. With a working noise level under 45dB, our rabbit sex toy offers discreet pleasure, allowing you to enjoy intimate moments without concerns of being noticed by others.