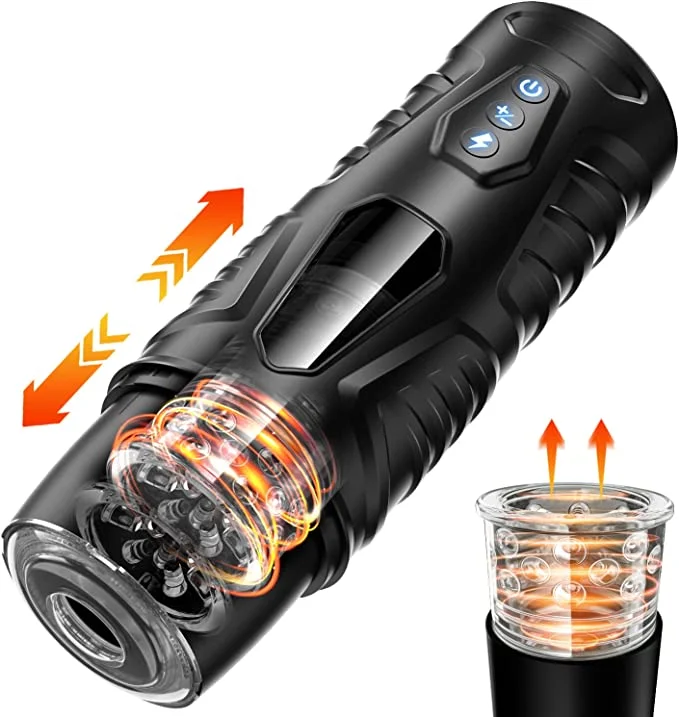 HIGHLIGHTS:
Powerful 7 Thrusting & 360° Rotation Modes: This innovative male masturbators adult toy equipped with a more intense thrusting motor that introduces 7 automatic thrusting and 360° rotation modes, work together to stimulate every sensory nerve on you and throw yourself into the wildest fantasies. Whether you are a novice or a professional player, you can find the best experience mode for you.

One-Click Climax Mode Masturbation Toy: When the above modes can no longer satisfy you, click orgasm mode to experience the intense feeling and extreme pleasure of 238 RPMs per minute, taking you as far as you desire. This male masturbators cup can also be used as a penis trainer, you can train your sexual endurance by alternating between normal mode and one-click climax mode.

Premium Safe & Soft TPE Material: The 4.3 insertable tunnel of this pocket pussy stroker is made of premium TPE material, It is realistic soft and flexible to meet any size and girth. Full of realistic 3D particles, as well as internal multi-layered spiral pleats which will bring you the marvelous sexual experience. For the best experience, always use this toy with water-based lube.

Easy to Clean & USB Rechargeable: Unlike other penis pump or electric masturbation toys, our male masturbator stroker has a removable sleeve, which can easily separate it from the machine. Just pull it out and flush, then dry it. After each use, the sleeve can be washed in warm water and mild soap and rinsed to dry. USB quick charging, charging 3.5 hours can be fully, can continue to work 2.5 hours.

100% Discreet Package & Devoted Service: All GERBUM adult sex toys will come in the100% discreet package, keep your privacy in the strictest confidential. If you have any questions about this male sex toy, don't hesitate to ask for help. We would offer the best solution for you in 24 hours. Click on the button "SOLD BY" under the button Buy NOW, and click on 'ask a question ' in the pop out window.
DESCRIPTION:
Matthew Automatic Male Masturbator - a cutting-edge sex toy designed to deliver unparalleled pleasure and stimulation to men. This innovative product boasts 7 different thrusting and rotation modes, each carefully crafted to simulate the sensations of real vaginal penetration. With its 3D textured interior, the Automatic Male Masturbator provides a realistic and immersive experience, making solo play more exciting than ever before.
The Automatic Male Masturbator is designed for maximum pleasure and versatility. With its sleek and compact design, it is easy to use and store discreetly. The product is also made from high-quality materials that are safe, durable, and easy to clean. Simply add some water-based lubricant, slide your penis into the device, and select the mode that best suits your mood.
Whether you're looking to add some variety to your solo play, or want to spice things up in the bedroom with your partner, the Automatic Male Masturbator is the perfect choice. The device can be used for self-pleasure, or can be incorporated into foreplay and intimate moments with your partner.
The 7 different thrusting and rotation modes provide a range of options to explore and experiment with. From slow and gentle rotations to rapid and intense thrusts, there is a mode to suit every preference and desire. The device also features a suction cup base, allowing it to be attached to a flat surface for hands-free pleasure. T
he 3D textured interior of the Automatic Male Masturbator provides a realistic and immersive experience. The device is designed to mimic the sensation of real vaginal penetration, with a variety of textures and ridges that add extra stimulation and pleasure. The interior is made from high-quality materials that are soft, supple, and easy to clean.
The Automatic Male Masturbator is the perfect choice for men who want to take their solo play to the next level. The device is easy to use, versatile, and provides a range of different sensations and modes to explore. It is also discreet and compact, making it easy to store and use whenever you want.
the Matthew Automatic Male Masturbator is a revolutionary sex toy that is perfect for men looking for a new and exciting way to experience pleasure. With its 7 different thrusting and rotation modes, 3D textured interior, and hands-free suction cup base, this device is sure to become a staple in your solo play arsenal. Try it today and experience the ultimate in male pleasure and stimulation.