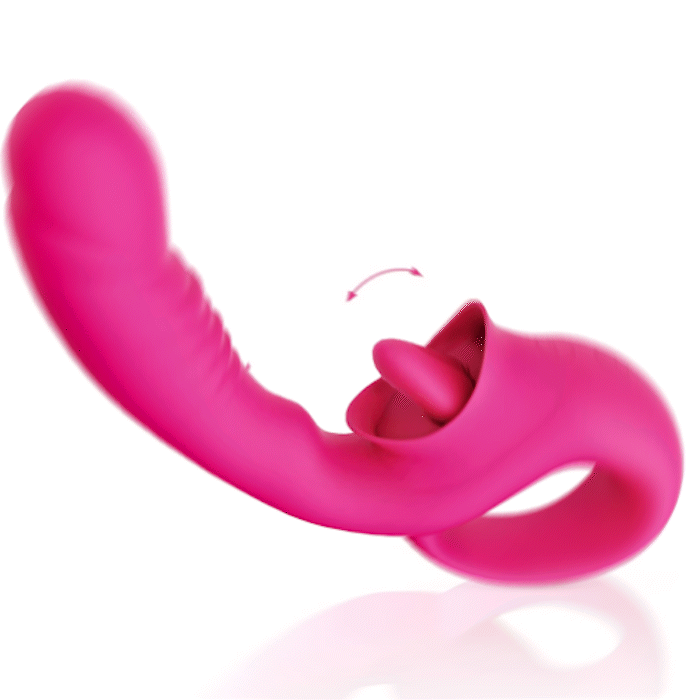 HIGHLIGHTS:
3-in-1 Stimulation Vibrator: Our multifunctional vibrator combines vibration and tongue licking for a unique and satisfying experience. With realistic vibrating head and tongue, it is ergonomically designed to stimulate your clitoris, vagina, G-spot, nipples, and anus, providing 3 different types of stimulation in one toy.

10 Licking & Vibration Modes: Our G-spot vibrator comes with 10 different modes of tongue licking and vibration, giving you powerful dual motor vibrations. The vibrator features two separate buttons that can be used together or independently, allowing you to choose the perfect mode to match your rhythm.

Safe, Soft, and Smooth: Made from safe, non-toxic, and odor-free silicone material, our dildo vibrator toy is smooth and soft to the touch, ensuring your comfort and safety during use. It operates at less than 60dB, providing a relatively quiet experience.

Waterproof & USB Rechargeable: This tongue licking vibrator is waterproof and easy to clean, making it perfect for use in the shower or bathtub. The USB charging design is compatible with various charging devices and takes just 2 hours to fully charge, providing 50 minutes of continuous use.

Discreet Packaging & Service: We understand the importance of privacy when it comes to adult sex toys. Our discreet packaging ensures that your personal information will not appear on the packaging. If you have any questions, please feel free to contact us at any time. Our vibrator is an adult product with no expiration date, so you can use it with confidence."
DESCRIPTION:
The Clitoral Licking G Spot Vibrator is a premium adult sex toy designed to provide women and couples with the ultimate sexual pleasure experience. This 2 in 1 vibrator is a nipple and clitoral stimulator that features 10 different licking and vibrating modes, making it a versatile and customizable option for any user.
With a rechargeable battery and strapless strap-on design, the Clitoral Licking G Spot Vibrator is both convenient and easy to use. It is made from high-quality materials, ensuring that it is durable and long-lasting. The realistic dildo vibrator is designed to be comfortable and ergonomic, providing a pleasurable experience for both partners.
This vibrator is perfect for couples who want to spice up their sex life or for individuals who are looking for a new way to explore their sexual desires. The various modes of the Clitoral Licking G Spot Vibrator allow for a range of sensations and intensities, ensuring that users can find the perfect setting to meet their needs.
The Clitoral Licking G Spot Vibrator is also easy to clean and maintain, making it a hygienic and safe choice for any user. The compact and discreet design of the vibrator also makes it easy to store and transport, ensuring that users can enjoy their sexual experiences wherever they go.
The Clitoral Licking G Spot Vibrator is a top-of-the-line adult sex toy that is sure to satisfy any user's desires. With its innovative design, customizable settings, and durable construction, this vibrator is the perfect addition to any collection of adult toys.
Tips:
Please ensure that the product is fully charged before using it for the first time. To charge, insert the DC charger plug into the bottom of the interface and wait until the light turns on to indicate that it is charging.

For optimal performance, use this toy with water-based lubricants only. Do not use with silicone-based lubricants. Please note that lubricant is not included and must be purchased separately.
SPECIFICATIONS:
| | |
| --- | --- |
| Color | Red, Rose Red, Purple |
| Material | Silicone |
| Dimensions | 7.4 x 2.76 x 1.57 inches |
| Weight | 6.07Ounces |
| Batteries | 1 Lithium Polymer batteries required. (included) |