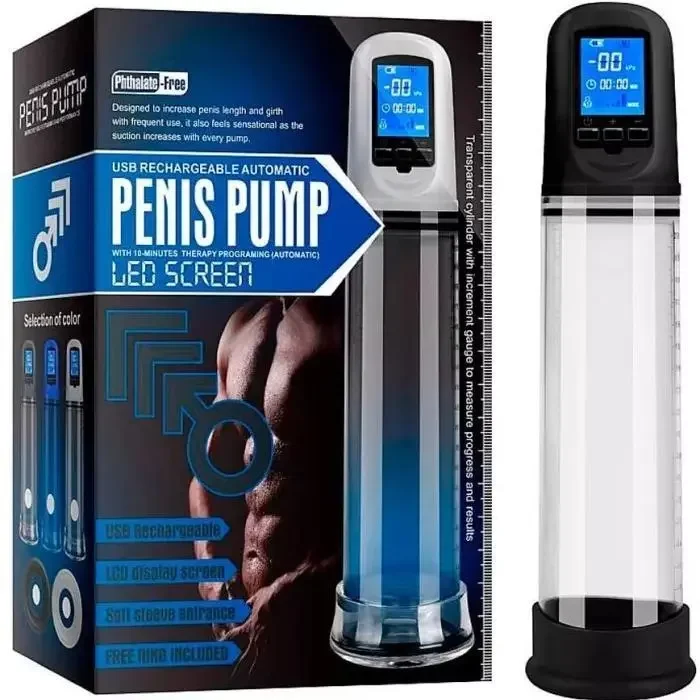 [MEASUREMENTS ON THE CYLINDER] The cylinder is transparent, makes it easy to observe the size of the penis. With the feeling that the air is being slowly pumped, you can clearly see your penis getting bigger and stronger with the accurate measurement indicator of the transparent camera in no time.
[4 PRESSURE SETTINGS] 4 different suction intensities and tight seals, men with different needs can achieve maximum effect. The soft silicone sleeve forms a perfectly tight seal against the skin and creates a powerful vacuum within the chamber.

[

SEX TIME EXTENSION]

Our penis pump is designed to create a vacuum suction that improves blood flow to the penis creating thicker, longer and harder erections.

Using it as a prelude to your sexual activity, make your sexual process long-lasting and full of passion.

[UPDATED VERSION] Upgraded penis pump 2.0 designed with LCD, display mode, time, kPa and battery, make operation easier. If you feel uncomfortable, an instant pressure release button will protect your penis from getting hurt.

[PRIVATE PACKAGING AND AFTER-SALES WARRANTY]

The penis enlargement pump will be delivered in discreet packaging, no one knows what you are getting, and please feel free to contact us when any problem arises.