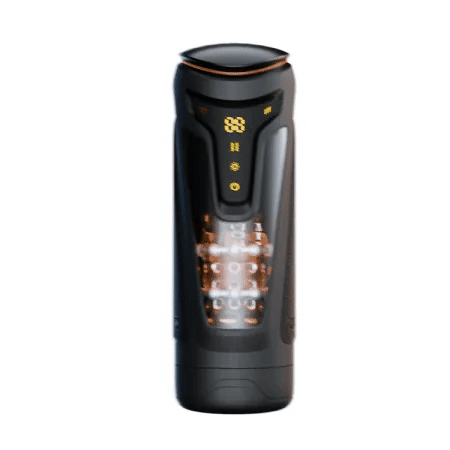 HIGHLIGHTS:
[9 Vibration & 8 Thrusting Modes]: This men's adult toy features 9 distinct vibration modes and 8 different thrusting settings, powered by a robust motor. These modes work together to deliver a combination of dynamic thrusts and vibrations, creating intense sensations. The toy is versatile with various intensity levels and patterns, making it suitable for solo use or a shared experience with a partner.
[2 Heating Levels]: The device includes two heating settings to enhance blood flow and provide a more realistic sensation during use. It stimulates more effectively than standard TPE materials by increasing friction. The toy heats up to 325℉, offering lifelike sensations. This heating function contributes to a more natural touch experience, resembling smooth, velvety skin.
[TPE Material & 3D Textured Tunnel]: The masturbator is crafted from TPE material, known for its sexual wellness benefits and granular texture. It features a 3D textured tunnel and a uniquely designed entry point, designed to deliver incredible sensations quickly. The internal multi-layered spiral pleats in the sleeve enhance friction for additional pleasure.
[Hands-Free & Accommodates Various Sizes]: Ideal for hands-free enjoyment, this stroker can be activated with a simple button press for solo exploration. The inner lining is soft and elastic, rich in texture, and closely conforms to the user. The insertion length is approximately 6 inches, catering to a range of sizes.
[Rechargeable & Easy to Clean]: The toy is USB rechargeable, compatible with both computer and mobile phone chargers, making it convenient for travel. It features a removable sleeve for easy cleaning. Simply detach the sleeve, rinse under running water, and after drying, reattach it to the device.